Vanguard Marine develops boats for special projects with different companies and organizations from the design phase to turnkey delivery:
The new TX-12.00 ambulance, designed for rescue, assistance, and medical transport operations. This boat measures 12.00 meters in length and is equipped with state-of-the-art systems and devices necessary to carry out these tasks efficiently and safely.
It stands out for its advanced manufacturing technique, using Productive Modularization tools that ensure maximum quality in boat construction.
Additionally, its spacious cabin and rescue equipment make it perfect for any emergency situation.
USV INDUSTRIAS FERRI (Unmanned Surface Vehicles)
Vanguard Marine has been selected as the supplier for the manufacture of the 12 meter long RIB Work Boat that has "D" floats developed specially as a support structure for the rollout of the USV system (Unmanned Surface Vehicle), developed and manufactured by Industrias Ferri https://ferri-sa.es/es/
This boat can be driven remotely from (on) shore or from a mother ship, it has automatic navigation functions for surveillance, defence or rescue, and it can also be used as a traditional crew boat. Thanks to the combination of its propulsion, control and navigation system located in the cabin developed by FERRI, the vessel can be controlled safely via mixed UHF/VHF, 4G and VSAT systems.
TL-620 LUXURY TENDER – Luxury and Safety
With the close cooperation of the prestigious German boatbuilders Yachtwerft Meyer GmbH www.yachtwerft-meyer.de this boat has been developed to be an auxiliary to mega yachts over 80 m and 500TRB. Strong and safe, it meets the strictest marine regulations for very demanding tasks, complemented with excellent design, comfort and functionality values. Designed and manufactured individually to each customer's specifications, the high quality of the materials and build together with complete fitting out and attention to detail satisfy even the most stringent demands, providing an excellent safety and comfort solution for their tender tasks.
Powered by an inboard 230 HP Yanmar engine and a Hamilton HJ 213 Jet-drive, it reaches 35 knots, with its console and navigation and safety arch being collapsible, making it possible to directly and easily store it in the mother vessel's stern garage.
Vanguard Marine, in accordance with the request and requirements of NGO Open Arms www.proactivaopenarms.org has developed and supplied a series of high performance models for offshore rescue tasks. These boats have been developing their operations aboard the NGO's tugboats, being subjected to the hardest working conditions, overloading, countless approaches to large wooden boats and manoeuvres to get close to and provide support for the transfer of hundreds of people onto military vessels. In addition, they support continuous towage operations under all kinds of sea conditions including at night, when the operating of the frequent rescues makes it impossible to recuperate and hoist on board the mother ship.
SALVAMENTO MARÍTIMO
TXA-750 D
For the State Sea Rescue Society, Vanguard Marine builds a series of boats to cover rescue, surveillance and salvage tasks with a deep V-shaped hull and storage compartments made of naval aluminium, equipped with a "D" design float which increases the surface area of the self-bailing deck. The hybrid style float is made up of five independent interior inflatable chambers that are encapsulated in a nucleus of closed cell foam protected by a high resistance polyurethane-reinforced CSM on the highest friction points that are exposed to wear and tear and impacts.
Their variable modular configuration provides the greatest possible versatility because it allows for the moving, exchange, reduction or increase in the number of seats mounted on a system of rails, adjusting the configuration to the service needs. Their ergonomic jockey seats with a suspension system reduce the impacts from travelling at high speed or from poor sea conditions, increasing the safety and working comfort of the crew.
These are complemented with a self-righting safety system, rescue door on the starboard side and they are fully equipped for navigation, communication and safety. They are prepared for the most adverse conditions, propelled by two 150 HP contra-rotation outboard engines that allow them to achieve 45 knots.
In close cooperation with Costablanca Kiteschool https://www.costablancakiteschool.com/es/, Vanguard Marine has developed a series of boats adapted to the needs of KITEBOARDING professionals, also known as KITESURF. This sport is a form of sailing that is usually practised on the beach, but that due to coastal regulations and the large numbers of people on beaches is prevented from being practised on the shore. Kiteboarding schools teach out at sea, training pupils without them having to 'step on the shore'. Trainer and pupils go out to sea beyond the 200 m line from the coast, where they prepare the kite and proceed to do the activity.
These kiteboarding boats have a platform for raising and lowering kites, as well as an easy access watertight locker for dry stowage of boards and kites. The area for transporting people is at the bow of the boat, which prevents there being any contact with the lines during kite raising maneuvers. All models have watertight chests to be able to store the kite inflating compressors required to prepare the kites at sea. The handling and layout of all their features are designed to be able to operate completely safely under demanding wind and sea conditions.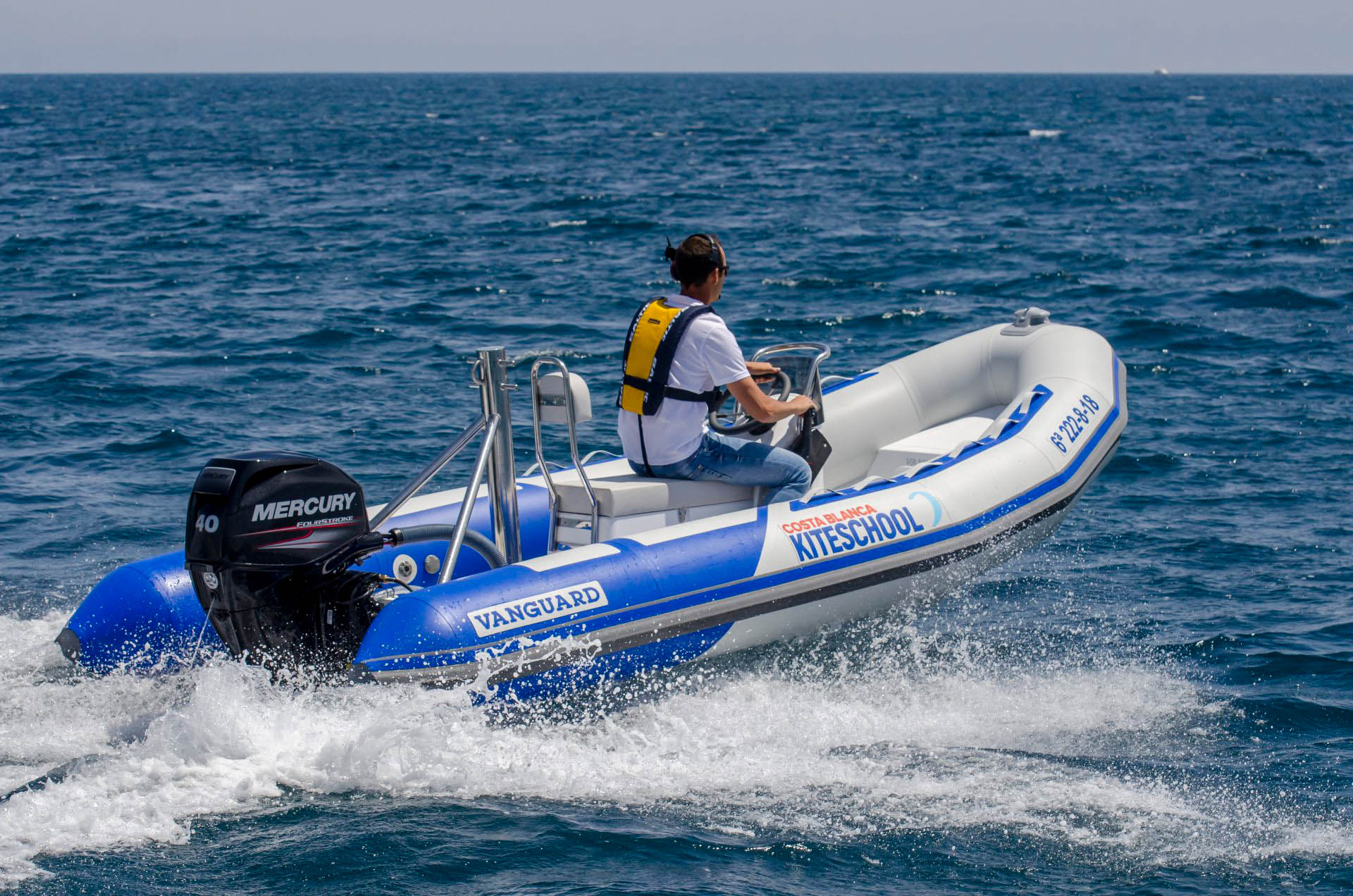 NEED MORE DETAILED INFORMATION?
OUR TEAM IS READY TO ANSWER YOUR QUESTIONS